Alarming information about the connection between COVID-19 & AIR POLLUTION
"Just one microgram of PM-2.5 over the allowed causes even NINE TIMES MORE cases of infection!"
22 world scientific studies confirm that more poisoning from the air means much worse consequences from the corona virus infection:
Just one microgram of PM-2.5 particles above the permitted level of pollution will cause nine times more cases of coronavirus infection and lead to 2.3 times more deaths from COVID-19.
This is just one of the dramatic and warning conclusions from one of the 22 scientific studies conducted this year regarding the connection between air pollution and morbidity and higher mortality rates from Covid 19.
Scientific studies conducted mostly rely on the fact that long-term exposure to polluted air is associated with easier infection with the corona virus, because air pollution impairs immunity and the whole organism. Such a disturbed organism makes people more susceptible and vulnerable to Covid 19.
For example, PM-2.5 particles are closely related to the development of this disease because as the smallest particles they penetrate most easily to the pulmonary alveoli, where the corona virus penetrates. Studies show that just one microgram more than the permitted pollution of these particles (50 micrograms per cubic meter) is enough to have nine times more coronavirus infection and 2.3 times more deaths in that environment than Covid 19. Also, in environments with contaminated air, under certain atmospheric conditions, the virus lasts longer and is transmitted for a longer time.
In one of the Chinese studies, as he adds, the results showed that the death rate from corona infection in 49 cities in China is related to the pollution with suspended PM particles. In 71 areas of Italy, where air pollution was higher, there were more cases of Covid 19, and globally, as all these studies show, "only a small increase in long-term exposure to air contaminated with PM particles increases mortality from Covid 19 by 15 percent."
WHAT IS THE SOLUTION TO BREATH HEALTHY AIR AND REDUCE THE RISK OF COVID-19 INFECTION?
The solution is Therapy Air iOn which is a patented air purifier and ionizer, which removes 99.99% of pathogens and toxic particles from the air – PM2.5 and PM10, viruses, bacteria and toxic substances through a five-stage system of powerful filters.
According to the research of German experts (expertentesten.de, 2016. 2019, 2020), it was declared the best air purifier in the world.
It has been proven to eliminate microorganisms from the air (GUI certificate, Germany, 2020) – the smallest particles such as fine dust, bacteria, mites and viruses – such as the SARS-CoV-2 virus, ie the corona virus.
It has been confirmed to remove all organic and inorganic allergens from the air (Allergy-Friendly product certificate, Poland, 2020), so it is especially recommended for people who are prone to allergies or suffer from asthma.
The warranty on Therapy Air iOn is 5 years.
Order NOW!
RRP Retail price € 850
Special offer € 811,75
Security deposit: € 211,75
Number of installments: 12
The remaining amount: 600
Monthly installment:  € 50,00
MORE INFO
Stay safe!
With love and gratitude,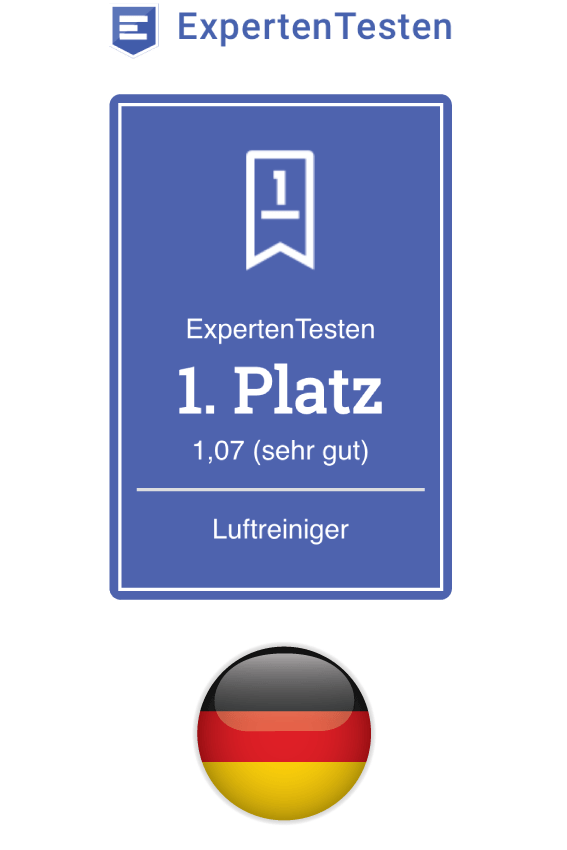 REFERENCES: