INFORMATIONAL MEDICINE:
HEALING WITH HYPERPOLARIZED LIGHT – THROUGH RESONANCE
"Vibrational medicine works at a deep, cellular level where molecular properties are being changed by vibrations" Dr. June Wider.
Every being and object has a natural resonant frequency. But, some are superior entities and resonate more intensely than others. If something is close to that superior resonator, it will vibrate at the same frequency as the being or object's resonant frequency.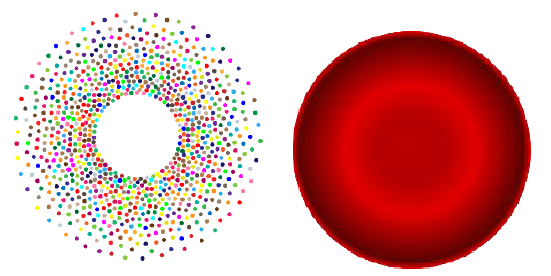 Two resonators such as BIOPTRON Quantum Hyperlight (LEFT) and healthy biostructures (RIGHT) possess the same type of symmetry.
Owing to a number of diseases, or even the body's natural aging processes, the natural, healthy state of biological structures becomes unordered. (FOR EXAMPLE Hypertonic or Hypotonic erythrocytes condition).
BIOPTRON Quantum Hyperlight, using the principles of "Resonance" from biomimicry (where pattern interrelates with identical pattern), because it is permanently ideally structured, it imposes its quantum energy-information properties onto the disturbed entity (i.e., the biostructures), bringing the system into homeostasis (i.e., the natural, healthy state).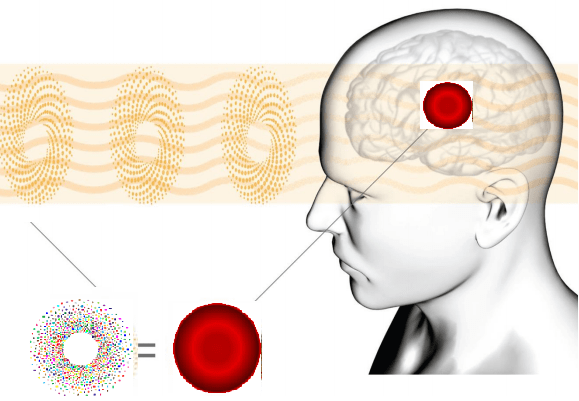 Those 2 entities, they couple, join: then they both vibrate in union, at the same quantum state. This "coupling principle" is the basis of Informational Medicine and Quantum Healing.
Occasionally, an injury, trauma or other disturbance in the bio-system is beyond the body's ability to find its way back to its original blueprint.
With the discovery of information as the basic 'software' of living systems, it came to the realization that malfunction in the living system can be treated by correcting the information that causes the malfunction.
With this Informational Medicine healing-concept, the door is opened to every healer and physician to complement his or her healing practice by suppling Hyperpolarized light energy-information to a biological system (i.e., the body), which enables that system to restructure and heal itself back to its original healthy quantum state.
The experiment BIOPTRON QUANTUM HYPERLIGHT shows that red blood cells are clotted and inactive (forming clustered structures), which could be indicative of or lead to cardiovascular
diseases, inflammation, and oxygen deficiency (hypoxia) at the tissue level.
After 10 minutes of exposure to BIOPTRON Quantum Hyperlight (Hyperpolarized Light), previously clustered cells become completely separated blood cells, which embody the entirety of blood revitalization: microtubules are modified from a previously unhealthy state into a torus shape with the same energetic structure as Quantum Hyperlight (i.e., the natural, healthy state, arranged according to the Golden Ratio. Empowered by this light energy-information, cells are able to move faster, thereby illustrating the remarkable anticoagulating effect. The red blood cells appear to revive from a state of inactivity into healthy, live active cells, demonstrating that BIOPTRON has quantum properties that heal at the quantum level. The energized blood flows unrestrictedly through the veins, effortlessly transporting oxygen to the vital organs, improving the processes of nutrient transport to the cells, facilitating the removal of debris, and possibly
preventing conditions such as hypertension, thrombosis (hazardous blood coagulation), stroke, heart attack, and inflammation.
BIOPTRON® Quantum Hyperlight can rejuvenate unhealthy cells into vigorous, healthy blood cells (i.e., to the ideal state and formation of the cells), both of which are critical in maintaining a healthy body.
Additional info:
The serendipitous discovery of the fullerene C60, which resulted in the 1996 Nobel Prize in Chemistry, triggered a new field of research, introduced the world to a new kind of symmetric quantum nanomaterial, and gave way to an entirely new chapter of nanotechnology and nanomedicine. These studies led scientists and engineers to consider the potential applications of C60 in creating new medical treatments to prolong life.
In 2017 — inspired by the properties of the Nobel Prize-winning discovery of fullerene molecules and our in-depth understanding of biology — our scientists have developed and patented the revolutionary BIOPTRON Hyperlight Optics®, which acts a nanophotonic generator to transform vertically linearly polarized light (VLPL) into Hyperpolarized light with quantum properties.
Stay safe!
With love and gratitude,
MedAll with floor stand*
RRP 1.257,00
Special offer 1.194,15
Security deposit 294,15
The remaining amount 900,00
Number of installments 12 months
Monthly installment 75,00
+ GRATIS shipping worldwide, 1-hour training for professionals, Book from Prof.Dr. D. Koruga: "Hyperpolarized light", Brochure Bioptron Quantum Hyperlight/ Hyperpolarized light, Brochure Healing with Bioptron Colour Hyperlights/ Color Light Therapy & Nanophotonic fullerene filter (BIOPTRON Quantum Hyperlight Optics)
*MedAll set 7 color filters 
RRP 461,00 Special offer 391,85
Pro 1 Medical device with floor stand**
RRP 2490,00
Special offer 2365,50
Security deposit 595,50
The remaining amount 1770,00
Number of installments 10 months
Monthly installment 177.00
+ GRATIS shipping worldwide, 1-hour training for professionals, Book from Prof.Dr. D. Koruga: "Hyperpolarized light", Brochure Bioptron Quantum Hyperlight/ Hyperpolarized light, Brochure Healing with Bioptron Colour Hyperlights/ Color Light Therapy & Nanophotonic fullerene filter (BIOPTRON Quantum Hyperlight Optics)
**Pro1 set 7 colors filters
RRP 770,00
Special offer 654,50